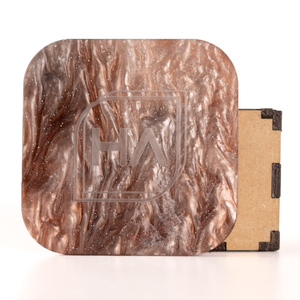 Our Armored Potion Cast Acrylic Sheet brings together shades of browns, cream, and grays in a ombre marble pattern with shimmery glitter dispersed throughout. Due to manufacturing, the Potion series may have a lot of variance in color and pattern distribution. Small surface ripples may appear throughout the sheet but should not account for more than 5% of the total surface area.
It is recommended you remove or mask over the protective plastic on this pattern. 

Do you need this acrylic size to be smaller? Check out our custom cutting fee here
Orders placed by 3:00 PM CST Monday-Friday that contain all IN-STOCK items will ship same business day. If your order contains a "Pre-Order", "On-Order" or "Out-Of-Stock" item, your order will ship as soon as the item is in stock. You can split your order by adding our "Split Order Fee". This will allow all in-stock items to ship the same business day, any items not in stock will ship as soon as they become in stock.
Posted settings are recommendations only. For best results, it is recommended you attempt a small test area before moving forward with a larger design. Results may vary on each machine due to a variety of factors such as machine type, age, and maintenance.

Acrylic Type: Cast
Masking: Plastic Protective Film
Recommended Glowforge Setting: Medium Black Acrylic
Please allow a +/- ½ inch variation for length and width sizes, and +/- 30% variation in thickness