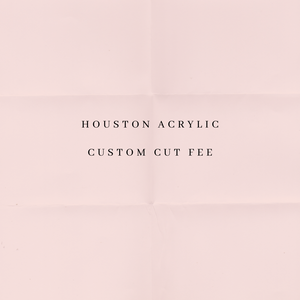 Do you need your 12" x 19", 12" x 24", 18" x 24", or 24" x 24" sheet cut to a smaller size? We offer to custom cut acrylic sheets to fit your laser bed size! To have your acrylic sheets cut follow these instructions.

1) Add this item to your cart along with your additional products.
2) We charge $1.00 per acrylic sheet to cut, with a maximum charge of $10.00 per order. So if you ordered 3 sheets to have cut add this item 3 times. If you ordered 12 sheets to have cut add this item $10.00 times.
3) Place your order.
4) E-mail info@houstonacrylic.com your order number and size you want your sheets cut to. 
5) We process all custom cut orders on Friday or Saturday. Your order will be mailed out as soon as it is cut. We will include all the scrap pieces leftover from your sheet of acrylic/wood. 
All leatherette and our flexible plastic sheet materials will not be cut to a smaller size. These items can be cut with crafting scissors. 
Please allow a +/- 1/2" variance in cuts
ANY ITEMS THAT ARE CUSTOM CUT ARE FINAL SALE. PLEASE NOTE: THE CUSTOM CUT FEE IS INTENDED FOR SHEETS TO BE CUT IN HALF, QUARTERS, OR CUTS THAT CAN BE DONE EASILY ON A SAW. CUTS FOR CUSTOM SHAPES, WORDS, ETC THAT REQUIRE LASER CUTTING WILL REQUIRE A QUOTE FOR LASER CUTTING SERVICES. E-MAIL INFO@HOUSTONACRYLIC.COM FOR A CUSTOM LASER QUOTE.