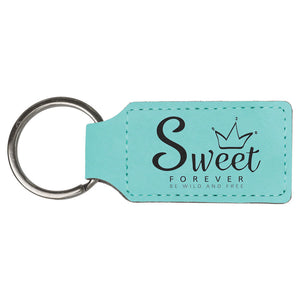 These leatherette keychain measures 2 3/4" x 1 1/4" inches. 
 Laserable Leatherette offers the look and feel of genuine leather at a fraction of the price.  

Posted settings are recommendations only. For best results it is recommended you attempt a small test area before moving forward with a larger design. Results may vary on each machine due to a variety of factors such as machine type, age, and maintenance.
Suggested Glowforge Settings:
We recommend a speed of 600, power 12, and lines per inch 225 to engrave.

Suggested 60 watt laser settings: 
DPI 600 Speed 100% Power 30%