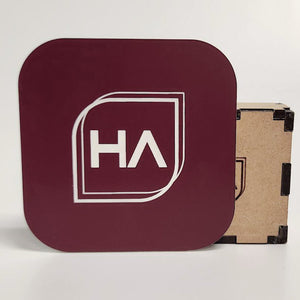 This maroon acrylic engraves white. The backside of this acrylic is white. Please note our two-tone sheets measure between 12"x23.25" and 12"x23.5" due to packaging. 

Do you need this acrylic size to be smaller? Check out our custom cutting fee here.  

Orders placed by 3:00 PM CST Monday-Friday that contain all IN-STOCK items will ship same business day. If your order contains a "Pre-Order", "On-Order" or "Out-Of-Stock" item, your order will ship as soon as the item is in stock. You can split your order by adding our "Split Order Fee". This will allow all in-stock items to ship the same business day, any orders not in stock will ship as soon as they become in stock.


Posted settings are recommendations only. For best results, it is recommended you attempt a small test area before moving forward with a larger design. Results may vary on each machine due to a variety of factors such as machine type, age, and maintenance.

Masking: Film. We recommend masking the black side with paper masking before cutting. 

Engraving: Similar to mirror acrylic, you do a reverse engrave on the back side (black). To determine the back side hold up to light and look closely at the edge. You will see where the black backing sits close to the edge of the back side. 

Recommended Glowforge Setting: Proofgrade Black Acrylic for cutting and 1000 Speed 80 Power for engraving (it may require 2 engrave passes). While cutting the edges will likely get sticky. We recommend cleaning with soapy water or LA Awesome afterwards. 


Please allow a +/- ½ inch variation for length and width sizes, and +/- 30% variation in thickness.