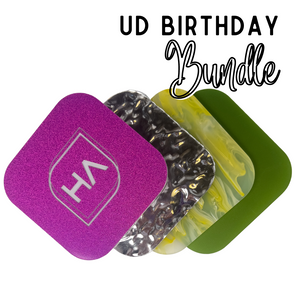 This bundle includes 4  unique 12"x19" acrylic sheets.
Each bundle includes:
- 1x Mirror Acrylic Sheet
- 1x Metallic Acrylic Sheet
- 2x Glitter or Specialty Acrylic Sheet
Sheets included in the bundle are Ugly Ducklings and will have imperfections, such as imperfect masking, warping, cracked corners, or bubbles. The patterns in a bundle cannot be guaranteed, and each bundle is NOT guaranteed to be different.
Photo is an example of possible products included and is not guaranteed to be the bundle you purchase.
Ugly Duckling Bundles are FINAL SALE.