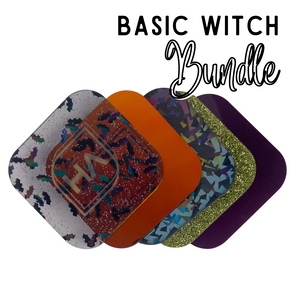 The Basic Witch Bundle includes 5 spooky season favorite acrylic sheets. This bundle is perfect for all your Halloween decor and accessories. All included styles come in our standard 1/8" thickness and sheet size 12"x19". Depending on the style, sheets may come with a protective paper or a plastic film masking.
The styles included are:
- Spooky Skies Cast Acrylic Sheet
- Single-Sided Midnight Prism Acrylic Sheet
- Holographic Nightmare Acrylic Sheet
- Lime Green Glitter Cast Acrylic Sheet
- Metallic Plum Cast Acrylic Sheet
Bundles are for a limited time only while supplies last. Bundles are pre-packaged and color requests or swaps cannot be accommodated. 
Do you need this acrylic size to be smaller? Check out our custom cutting fee here.  

Orders placed by 3:00 PM CST Monday-Friday that contain all IN-STOCK items will ship same business day. If your order contains a "Pre-Order", "On-Order" or "Out-Of-Stock" item, your order will ship as soon as the item is in stock. You can split your order by adding our "Split Order Fee". This will allow all in-stock items to ship the same business day, any items not in stock will ship as soon as they become in stock.
Please allow a +/- ½ inch variation for length and width sizes, and +/- 30% variation in thickness