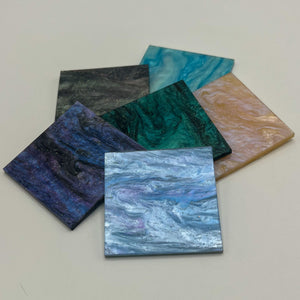 This sample square bundle contains our 1/8" Starry Sky, Haze, and Potions Cast Acrylic collections. The sample bundle contains 25 squares that measure approximately 2" x 2".

Sample Squares Include:
Blue Starry Sky
Emerald Starry Sky
Midnight Dream Starry Sky
Purple Starry Sky
Rose Starry Sky
Unicorn Starry Sky
Pastel Mint Clouds
Pastel Pink Clouds
Pastel Lilac Clouds
Pastel Baby Blue Clouds
Amber Haze
Ivory Haze
Midnight Navy Haze
Mocha Haze 
Red Haze 
Smokey Haze 
Rose Gold Haze
Lavender Haze
Retro Potion
Lovers Potion
Armored Potion
Woodlands Potion
Magic Potion
Christmas Potion
Cotton Candy Potion
Option to purchase 2" x 2" sample squares individually by finding the acrylic color in the catalog and selecting 2" x 2" sample square.