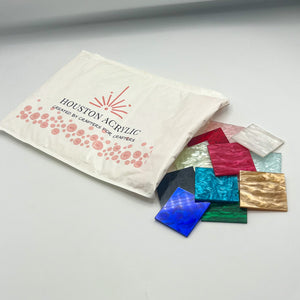 This sample square bundle contains our Pearl Cast Acrylic collection. The sample bundle contains 22 squares that measure approximately 2" x 2".

Sample Squares Include:
Baby Blue Pearl
Baby Pink Pearl 
Black Pearl
Blue Pearl
Dark Green Pearl

Desert Pearl
Green Pearl
Hot Pink Pearl
Red Pearl
Royal Blue Pearl
White Pearl
Copper Pearl
Ivory Pearl
Bourbon Pearl
Champagne Pearl
Purple Pearl
Baby Yellow Pearl
Orange Pearl
Periwinkle Pearl
Pewter Pearl

Option to purchase 2" x 2" sample squares individually by finding the acrylic color in the catalog and selecting 2" x 2" sample squares.