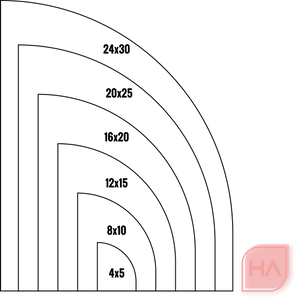 1/8" Pastel Acrylic Wide Half-Arches are great for custom wedding or baby shower signs, business signs, menus, and more. Using acrylic wide half-arches creates endless opportunities for your laser or vinyl craft projects. 
All Pastel Acrylic Wide Half-Arches are MADE TO ORDER and will take an additional 5 to 7 business days for your order to be shipped. Additional sizes, colors, and thicknesses can be requested by e-mailing info@houstonacrylic.com for a quote.
Please allow a +/- ½ inch variation for length and width sizes, and +/- 30% variation in thickness.
Recommended Settings
For laser settings check the product page of your desired material. Settings posted are recommendations only. For best results, it is recommended you attempt a small test area before moving forward with a larger design. Results may vary on each machine due to a variety of factors such as machine type, age, and maintenance.

Acrylic Type: Cast
Masking: Varies based on material chosen