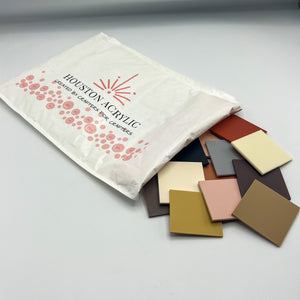 This sample square bundle contains our Naturals Acrylic collection. The sample bundle contains 17 squares that measure approximately 2" x 2".

Sample Squares Include:
Matte Nude Blush 
Matte Bone 
Matte Terra Cotta 
Matte Golden Tan
Matte Soft Gray
Matte Burnt Orange 
Matte Coffee Brown 
Matte Chocolate Brown
Matte Nude 
Matte Beige 
Matte Ivory
Matte Taupe
Matte Vanilla 
Matte Dove Gray
Matte Champagne
Matte Espresso Brown
Matte Hazelnut

Option to purchase 2" x 2" sample squares individually by finding the acrylic color in the catalog and selecting 2" x 2" sample squares.