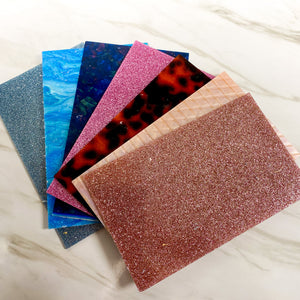 This box is a perfect way to sample out our unique acrylics. The box will contain 4 randomly selected  4" x 6" pieces from our specialty, glitter, frosted, and pastel acrylic selection.  Each box is guaranteed to come with 3 total pieces of specialty or glitter acrylic. The 4th sheet will vary and can be from our frosted, pastel, specialty or glitter acrylic collections.
Each 4x6 square may have slight variations in sizing, minimal imperfections, and masking is not guaranteed. Please be aware that any mystery acrylic box purchase is final sale, and non-refundable.
This box will allow you to try multiple glitter/pattern options without having to purchase a full sheet. We cannot guarantee color or pattern combinations and cannot accommodate requests.
Image pictured is a sample of potential pieces that may be included in your mystery box only. 
This product is NON-REFUNDABLE.
This particular selection may have more variation in length and width than our typical +/- ½ inch variation for length and width sizes, and +/- 30% variation on thickness.  

It is recommended you remove or mask over the protective plastic on this pattern.