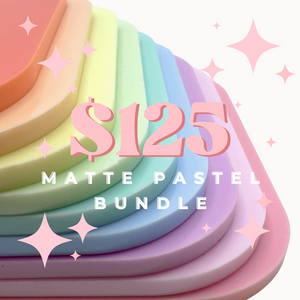 The Matte Pastel Bundle includes 9 colors from our 1/8" pastel collection in our standard sheet size 12" x 19". These sheets have a matte finish on one side and a glossy finish on one side. 
Bundles are for a limited time only while supplies last. Bundles are pre-packaged and color requests or swaps cannot be accommodated. 
Do you need this acrylic size to be smaller? Check out our custom cutting fee here.
Recommended Settings
Posted settings are recommendations only. For best results, it is recommended you attempt a small test area before moving forward with a larger design. Results may vary on each machine due to a variety of factors such as machine type, age, and maintenance.

Acrylic Type: Cast
Masking: Yes
Recommended Glowforge Setting: Medium Black Acrylic