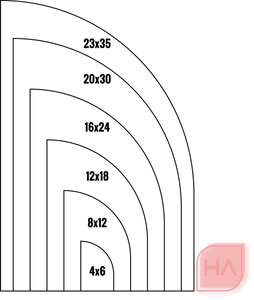 1/8" Acrylic Half-Arches are great for custom wedding or baby shower signs, business signs, menus, and more. Using acrylic arches creates endless opportunities for your laser or vinyl craft projects. 
All Acrylic Half-Arches are MADE TO ORDER and will take an additional 5 to 7 business days for your order to be shipped. Additional sizes, colors, and thicknesses can be requested by e-mailing info@houstonacrylic.com for a quote.
Recommended Settings 
For laser settings check the product page of your desired material. Settings posted are recommendations only. For best results, it is recommended you attempt a small test area before moving forward with a larger design. Results may vary on each machine due to a variety of factors such as machine type, age, and maintenance.

Acrylic Type: Cast
Masking: Varies based on material chosen