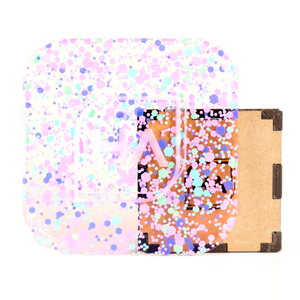 This sheet has pastel teal, pink and purple confetti cast in clear acrylic. This color is great for spring, Easter, or baby showers.
Do you need this acrylic size to be smaller? Check out our custom cutting fee here.

Product Disclaimer: Cast acrylic with a high density of embedded material, such as this, has a tendency to warp during the casting process. Sheets from this family may appear slightly bowed compared to others. 
Recommended Settings
It is recommended you remove or mask over the protective plastic on this pattern. 
Posted settings are recommendations only. For best results, it is recommended you attempt a small test area before moving forward with a larger design. Results may vary on each machine due to a variety of factors such as machine type, age, and maintenance.

Acrylic Type: Cast
Masking: Plastic Protective Film
Recommended Glowforge Setting: Medium Black Acrylic
Please allow a +/- ½ inch variation for length and width sizes, and +/- 30% variation in thickness.