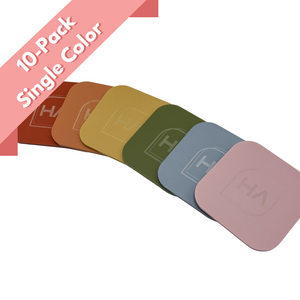 This product is FINAL SALE. Available while supplies last.
This pack includes a total of 10 cast acrylic sheets of ONE COLOR in size 12" x 19" and 1/8" (.118mm) thickness. Sheets included in the bundle are Ugly Ducklings. These sheets experienced a masking defect resulting in an adhesive residue left on the matte side(s) of the sheet. This residue can be removed with adhesive removers such as goo-gone or isopropyl alcohol. We recommend customers carefully clean and rinse their sheets  before use. 
Due to the nature of the imperfections and masking issues these sheets may arrive with slight warping, surface level scratches, or damaged masking. Any surface level imperfections can be treated with a plastic buff and polishing system such as Novus.
We recommend customers remove the original paper masking on the matte side and clean the surface before remasking and cutting with their CO2 laser. 
Sheets have a frosted or matte finish on one or both sides. To find specific information on the finish please visit the product page for that style.