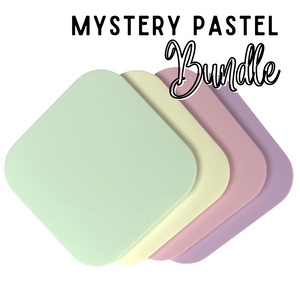 The Glossy Pastel Bundle includes 4 unique colors from our 1/8" pastel collection in our standard sheet size 12"x19". Color selections will vary but each sheet will be different color. These sheets have a glossy finish on BOTH sides. These sheets were part of a mishipment and there may more variance in cut size and masking quality. THIS PRODUCT IS FINAL SALE.
Possible colors included are:
- Glossy Pastel Watermelon
-  Glossy Pastel Peach
- Glossy Pastel Baby Yellow
- Glossy Pastel Pistachio Green
- Glossy Pastel Spearmint Green
- Glossy Pastel Cornflower Blue
- Glossy Pastel Purple
- Glossy Pastel Blush Pink
- Glossy Pastel Dusty Rose
Bundles are for a limited time only while supplies last. Bundles are pre-packaged and color requests or swaps cannot be accommodated. 
Do you need this acrylic size to be smaller? Check out our custom cutting fee here.  

Orders placed by 3:00 PM CST Monday-Friday that contain all IN-STOCK items will ship same business day. If your order contains a "Pre-Order", "On-Order" or "Out-Of-Stock" item, your order will ship as soon as the item is in stock. You can split your order by adding our "Split Order Fee". This will allow all in-stock items to ship the same business day, any items not in stock will ship as soon as they become in stock.

Posted settings are recommendations only. For best results, it is recommended you attempt a small test area before moving forward with a larger design. Results may vary on each machine due to a variety of factors such as machine type, age, and maintenance.

Acrylic Type: Cast
Masking: Yes
Recommended Glowforge Setting: Medium Black Acrylic
Please allow a +/- ½ inch variation for length and width sizes, and +/- 30% variation in thickness